Applesauce Muffins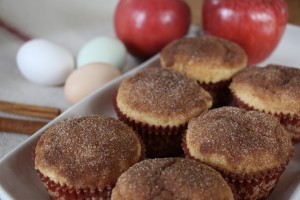 Every time I make these muffins (which is quite frequently) I have to look up the recipe, so I decided that it was time to put it on my blog.  Blogging kind of took a back seat when I had a stroke, so maybe this will jumpstart my writing and photography again.
I first made applesauce muffins when I was in junior high.  We made them in my Home Economics class and I loved them so much that I saved the recipe.  I think I kept that recipe for about 15 years and made them many times before losing it.  Over the years, I found a couple other recipes that did the trick.  Then, Pinterest came along and Rebecca, from Simple As That posted her recipe.  The recipe I use is basically the same as Rebecca's, but I did make a few minor tweaks.
Beat softened butter in a large mixing bowl. Add sugar and beat until fluffy. Add eggs and beat until incorporated. Stir in applesauce. Gently stir in dry ingredients. Bake at 350 degrees for 20 minutes. For the topping, wait until the muffins are cool enough to handle. Roll the top of the muffin in melted butter, and then immediately roll the muffin in the cinnamon sugar mixture.
The biggest tweaks I made to Rebecca's recipe are in the applesauce and the cinnamon sugar.  My mom makes our applesauce every Fall.  She adds cinnamon and sugar into the applesauce as she's cooking it, so our applesauce has more sugar and more cinnamon than All Natural Mott's Applesauce.  My family also likes a little more cinnamon in the topping, so I increased that.  There is also a pinch more salt than Rebecca's recipe.  I guess it's just personal preference.
My daughter has requested that I always make 24 muffins, instead of just 12.  Twelve muffins only last about a day in our house.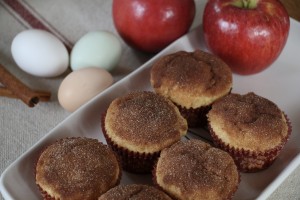 We are lucky enough to have a friend share their farm fresh eggs with us.  This recipe calls for 4 eggs, so I'm happy to have plenty!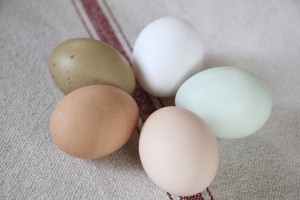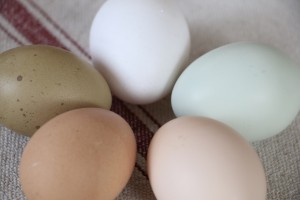 The fact that I get to bake these in my grandma's muffin tin makes my heart happy.  I remember baking cupcakes and muffins with her and thinking that this pan was so "old" and she should really get a new one.  Now, I'm so happy to have this antique pan. I'm glad she never replaced it.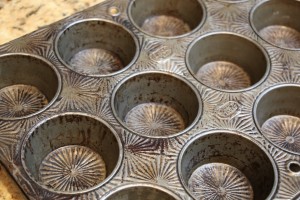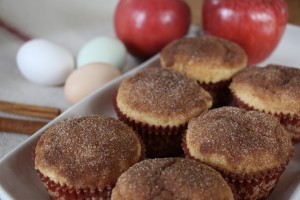 Happy baking!