Snickerdoodle Cookies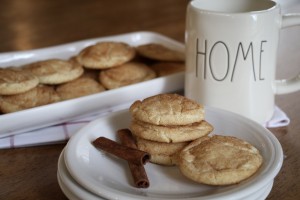 I decided that my Snickerdoodle cookie recipe needed some updated pictures today.  My brain has been playing tricks with me lately and movement is not my friend.  I was trying to think of things to do that didn't involve reading, scrolling, watching tv, videos, excessive movement, or too much thinking. (#strokebrain)  Photography seems pretty harmless and I can type with my eyes closed, for the most part.  Plus, I just found out that my son's girlfriend and family haven't tried Snickerdoodle cookies.  Crazy!
Mix shortening and sugar. Add eggs and mix. Add dry ingredients and mix. Using a cookie scoop, shape dough into balls. Roll dough balls in the cinnamon sugar mixture. I bake these cookies on a Silpat lined baking sheet, at 400 degrees, for 7 minutes.
Happy baking, friends!