S'Mores Tart Recipe
A few weeks ago I promised you my s'mores tart recipe. Here you go!
The invention of the s'more is billiant, if you ask me. I don't particularly like marshamallows, but when you combine a warm marshmallow with graham crackers and chocolate, it's heaven.
This recipe is SUPER easy. If you don't like to cook or bake, this might just be your new favorite dessert.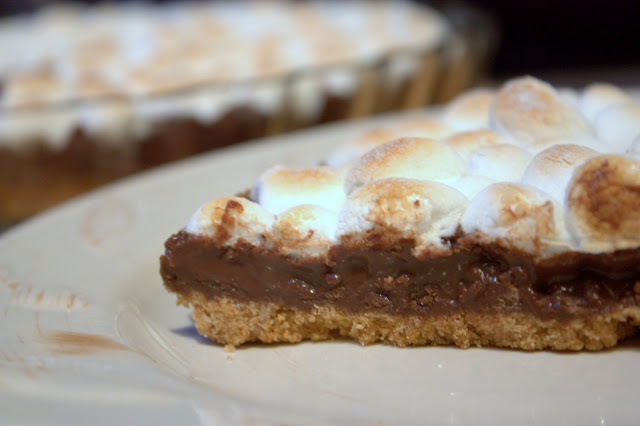 Ingredients
•2 cups graham cracker crumbs
•1/3 cup sugar
•1/2 cup butter, melted
•5 ounces bittersweet chocolate chips and 5 ounces of milk chocolate chocolate chips
(Or substitute whatever you have on hand.)
•1 cup heavy cream
•2 cups mini marshmallows
Instructions
1.Preheat oven to 350ºF. Grease tart pan.
2.Combine graham cracker crumbs, sugar and melted butter. Stir till combined.
3.Press crumb mixture into bottoms and sides of tart pans.
4.Bake in preheated oven for 10 minutes.
5.Melt chocolate chips in a double boiler.
6.Add cream, slowly.
7.Stir chocolate mixture until smooth.
8.Pour mixture into tart pan.
9.Top the tart with marshmallows.
10.Put the tart into the oven on BROIL for just a few seconds, until the marshmallows are golden brown. If you're really cool and have one of these kitchen torches, use that! I'm not that cool, so I had to use the oven.
11.Refrigerate 3 hours My son liked this tart cold, and my daughter liked it warm. I have to say, I like the warm tart best too. Once the tart set, and the pieces were sliced, we heated each piece in the microwave for about 12 seconds. It was just like a s'more from the fire pit.
Happy marshmallow roasting!