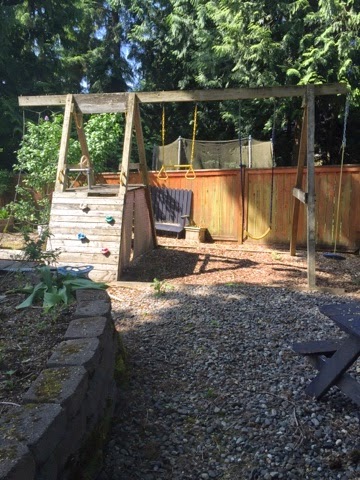 The Evolution of A Backyard Space
A few months ago, this was the back corner of our yard.
I took a picture of our old swingset and listed it for free on our neighborhood Facebook page.
Within an hour, a neighbor was coming to take it apart and give it a new life in a new home. I have big plans for this space. We bought chairs and more wood chips and I started working on a new vision for how we would use this space.
I set out my new chairs and planted a few pots and it was just how I wanted it (in the beginning stages) for about 12 hours. By the next morning, my kids had a new idea for the space.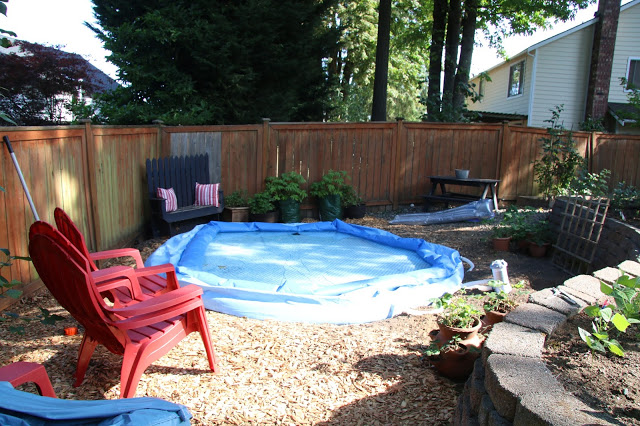 They stacked the chairs, moved my planters out of the way, and started re-raking the wood chips so they could level out the space and make room for the pool. I hung my head in sadness for the loss of my garden area and helped them level the ground. Nothing makes me happier than seeing my kids work together on a project and I know they would LOVE to get the pool up! We've tried this pool in several different spots, but nothing has been level and the pool needs a perfectly level space.
Sadly, we spent about a week patching and re-patching small holes in the pool and eventually decided that it's just not going to work. I was kind of sad because I really thought it was going to work and pictured the kids having hours of fun since this was a pretty large pool. Oh, well. Now, it's back to the drawing board again with this area!