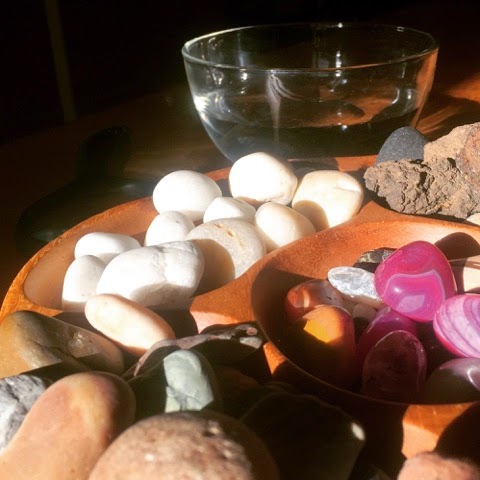 Using Light in Photography
I've always been a bit afraid of using direct sunlight in photography. Everything I read about light says that direct light is a no-no. It washes out the subject and creates hard shadows. Well, I'm finding that sometimes rules are meant to be broken, when you understand why you are breaking the rules. For example, the other day when I walked into my classroom, I noticed that the light was perfectly hitting my rocks and water bowl. I have a tiny little window on my classroom door and the sunlight was coming in through that one little spot. The rest of the room was still dark and I thought it made the water and rocks really stand out. I snapped this picture and I love the combination of light and dark.
On a different day, when the water jars were set up, I noticed how the light really reflected in our water jars. Again, direct sunlight was not supposed to be ideal, but in this situation I really love it. I also love the transparency of water and glass. In Reggio Emilia (a place in Italy that has inspired teaching in a different way of teaching from our traditional American approach) transparency is one of the key pillars. The idea of transparency in education is inspiring in SO many different ways.
I've been playing around with collage in my light-filled photos as well. I think collage is a great way to tell a story. On the computer I use the collage feature in Picasa, which is a free photo editing program. On my phone I use Pic Stitch or PhotoGrid. Both apps have been fun to play around with.

I'm kind of loving these light-filled photos, even though they break all of the rules. I'm such a rebel!
Happy light-filled photo taking!