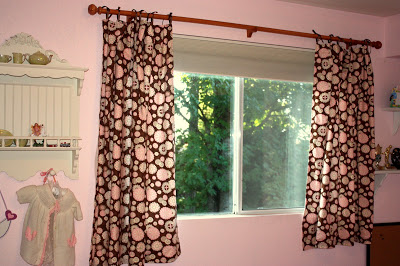 My Kids' Projects
I'm so excited to share my kids' latest projects with you! Yesterday, I told you about how they made some delicious bread together. Well, here are two of their summer projects.
My 7 year old decided she needed a change in her room. She has been learning to sew, on her own machine, so I suggested that we make something new for her room. After browsing through the fabric store, she decided on this fabric. I helped her do the cutting and I sewed the ribbon-ties on the top for her. She did everything else. They're lined with white muslin and look absolutely beautiful in her room. I was very impressed with the way they turned out! Not too bad for a first grader and a sewing machine!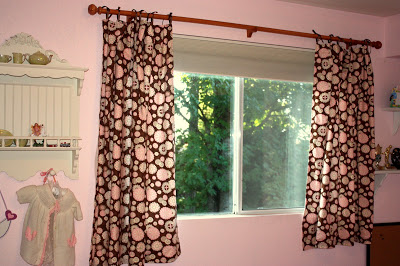 This was my son's project for his room. I have to admit, I doubted him. I even tried to talk him out it. I stood at the paint counter at Lowe's, shaking my head. In the end, I think it's pretty cool. I was watching HGTV Design Star one day, when he walked in the room. One of the designers had made a big wooden "RELAX" sign for the wall. He asked if he could do something like that for his room. I probably said something like, "Sure, Pumpkin, that would be really cool."
Next thing I knew, he was setting up the saw horses in the garage and sketching out a plan. He pulled out the large piece of plywood from the wood pile and was ready to go! His dad helped him with the jigsaw and he and one of his friends painted the sign with several coats of paint.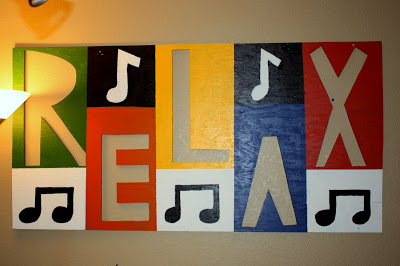 It looks really cool in his room! I told him he should make more and sell them. Momma needs a new pair of boots!!!
The moral to the story – Let them create! You'll be surprised at what your kids can pull off.
Happy creating!