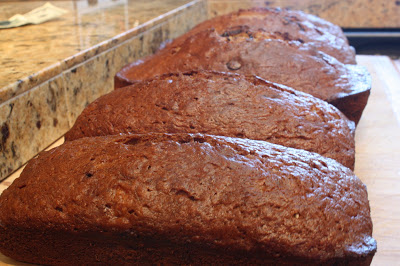 What To Do On A 90 Degree Day
Weather Man – "Expect a scorcher today. We have a wave of high pressure building around the Pacific Northwest, creating some hot temperatures for our area."
Me – "Hmmmm, I have so many bananas left over from our last trip. I think I'll make them into banana bread… right now."

Ugh! What was I thinking? 99.9% of the year we live in the comfort of the 70's or lower temperatures. Anything above 80 is a true, break out every fan, blow up the pool, and complain that you don't have AC, HEATWAVE. I know, many of my blogger friends have no sympathy for me. But, in my defense, we just aren't used to this.
So, yesterday I made 5 loaves of banana bread, sliced them, and used the food saver to wrap them up until fall. They will make the perfect after school snacks for my kiddos.
I don't eat banana bread, but my kids and hubby love it. I use a recipe from the Pillsbury cookbook and I don't even know if it's a good one. I just trust them when they tell me it's yummy. If you have a great banana bread recipe I'd love it if you'd share!
It's supposed to hit 95 today. Maybe I'll start a fire in the fireplace and bake some pies.