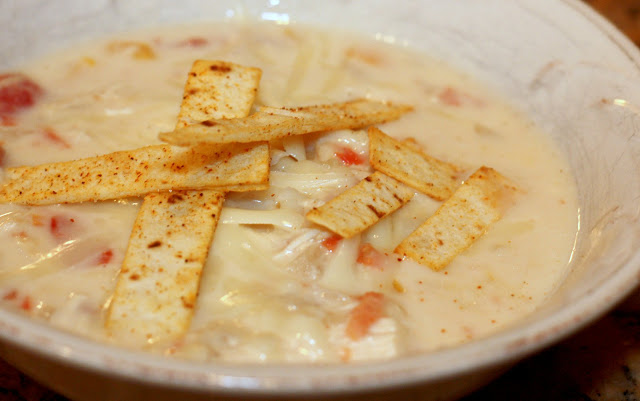 White Chicken Chili Recipe
Please excuse the lame food styling in this photo. My kids were starving and there were lots of groans when I said that I needed a picture before we ate.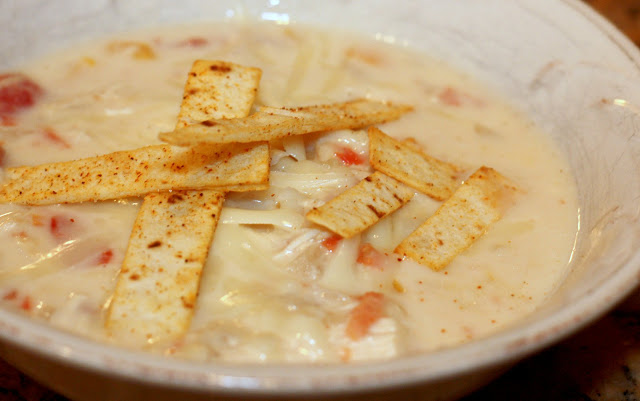 My hubby has been asking me to make white chicken chili for YEARS. Honestly, I have never had white chicken chili… well except for that one time that he decided to make it himself and the kids named it Dad's Throw-up Soup. It tasted as bad as it looked.
I decided that over the break I'd give it a try. I had several recipes pinned for White Chicken Chili, but none of them sounded like exactly what I was looking for. So, I decided to combine a few and make my own recipe.
Here's what I did:
I started by cooking a pound of chicken breast in the crockpot.
It cooked for about 4 hours on high.
Into the crockpot, with the cooked chicken, went
6 cups of water
6 chicken bouillon cubes
(use 6 cups of chicken stock if you'd rather)
1/2 of an onion, finely diced
1 clove of garlic, finely diced
1 can of diced tomatoes, drained and rinsed
(or chop your own)
1 diced yellow pepper
(corn would be good too, if you are not a fan of peppers)
1 can of white beans, drained and rinsed
1/4 tsp chili powder
1 tsp salt
dash of pepper
That sat in the crockpot for 3 more hours on high.
Then came the thickening.
In a pan, melt 2 tablespoons of butter.
Add 1/2 cup flour and mix
Slowly add 1 cup of half and half and 1 cup of milk
Add 8 oz of light cream cheese
Add 1 1/2 cup of Monterey Jack Cheese, shredded
This mixture makes kind of a mac and cheese type sauce.
Next, I added some of the chili broth from the crockpot into to cheesy mixture to thin it out a bit.
Finally, I poured everything back into the crockpot and stirred it all together.
It made a thick, yummy, cheesy, chicken chili that everyone loved.
My hubby says this recipe needs to go in our regular rotation. The kids both loved it too!
By the way, those little tortilla strips on top were just cut and tossed with olive oil and a bit of taco seasoning. Then I baked them for about 5 minutes to crisp them up. They were a perfect little topping for the chili.
Happy cooking!