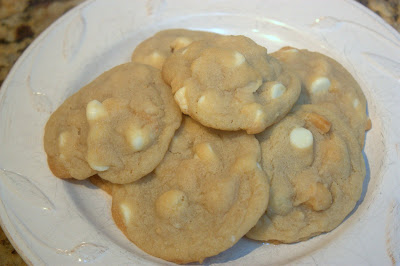 White Chocolate Macadamia Nut Cookies
I think I'm really missing Hawaii. I walked by the macadamia nuts, at the grocery store the other day, and I could almost feel the warmth of Hawaii again. I couldn't pass them up. Ok, I saw the price of $8.49 and I did pass them by, but I kept thinking about them. Fast forward to a few days later. I was at the drug store, around the corner from our house, and they had a smaller container that was on sale for less than $5.00.
Sold.
I also had a package of white chocolate chips in the pantry, leftover from my Holiday baking. I smell cookies, don't you?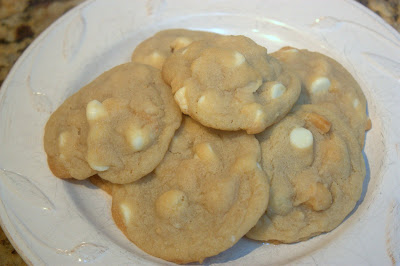 Here's the recipe:
1 Cup Crisco shortening (original, not butter flavor)
3/4 Cup brown sugar
3/4 Cup white sugar
Mix until soft and fluffy.
Add:
2 Eggs
1 and 1/2 tsp vanilla
Mix just until blended.
Dry ingredients:
2 and 1/2 cups flour
1 tsp baking soda
1 tsp salt
Mix it up and add a 6oz package of macadamia nuts (slightly chopped) and about 8 oz of white chocolate chips.
Bake for 10 minutes (or less) on 350 degrees. My oven is a standard oven, not convection, and this is what I do.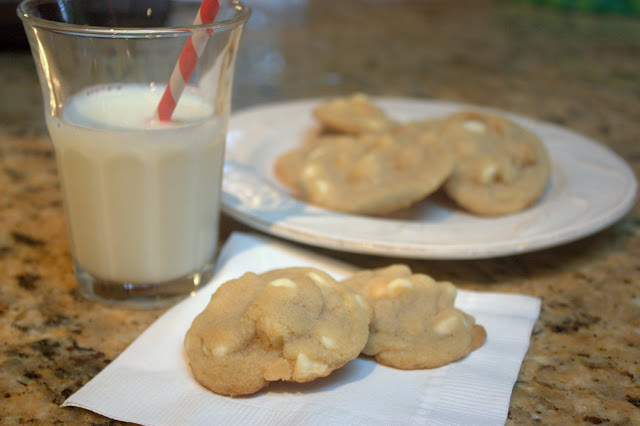 Happy baking!