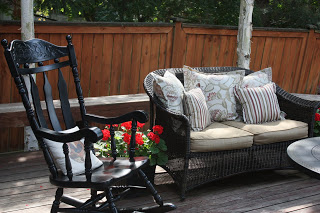 A Summer Garden Tour In The Middle of Winter
I was dreaming of Summer weather this week. It's been 60 and sunny for most of the week and I can't wait to get my garden back in shape. I know the thought of 60 degrees makes our East Coast friends jealous. (Sorry!!) I was scrolling through garden posts that I've written for my blog and ran across my outdoor tour. I thought it was a good time to re-run this and we can all dream of Summer together. Here goes…
Although, most of us around here are complaining about the lack of heat, my yard and garden are loving this weather. I thought I'd take you on a little garden tour today.
This rocking chair has been in my classroom for the past several years. It needed a repair job and some paint touch ups. I brought it home, fixed it up, and now I don't think it's going back to school. I really like it out on the deck. It kind of reminds me of a rocker someone might have had on their porch in the 40's or 50's.
I brought the rooster pillow out to add a little warmth to the chair.
Our grass is still quite green and the sprinkler has only been on a handful of times.
My sweet peas are very happy out there on those window trellises.
Most of my flowers are ready to be divided.
This is the area of free plants from Carpooler Michelle. She gave me starts when I moved in. I think they've filled in pretty nicely.
This next little area is a work in progress. Someday I think it will be a patio. For now it's no-man's-land. I put my little picnic table out there last weekend, just so I wouldn't have to look at dead space. I finally got around to repairing my old wagon. Note to self – go to Flower World and buy a few plants to put in the wagon. Ooooh, or better yet, maybe I'll just wait for pumpkins!
My red Adirondack chairs are my favorite place in the yard. I love sitting here, in the sun, watching the kids play on the swingset or splashing in the blow up pool.
Yep, it's my happy place. My geraniums are doing the best they have ever done! I think they like the cooler temps.
Not too bad for a yard that had zero plants when we moved in.
The veggie garden is on the left, perennials on the right. I'm thinking I may only get green tomatoes this year.
I was very patient and now my impatients are in full bloom. The pitch fork-plant hanger is a new addition this year.
Why, hello there, Annabelle. I'm so happy you're blooming this year! I planted two Annabelle hydrangeas last year by my grandpa's old plow. White hydrangeas make me happy.
I picked these hydrangeas two weeks ago and they still look beautiful in my kitchen. (Still loving my $1 milk bottles!)