Big Changes in the Living Room… BIG Changes
Over the past few years, we've been having a difficult time deciding on a room arrangement in the living room.  I found an arrangement I liked, but the kids said there was too much glare on the TV.  We found an arrangement that worked for TV, but I really didn't like the way the room felt.  It just seemed crowded.  Recently, our big couch in the living room broke and we decided it was time to seriously think about new furniture.  The couch and love seat set was the first thing we bought when we purchased our first home, almost 20 years ago.  That couch and love seat had a good run.  The pressure was on! We had to think like designers, which we clearly aren't!
Here's what we decided and you can see why it's a BIG change.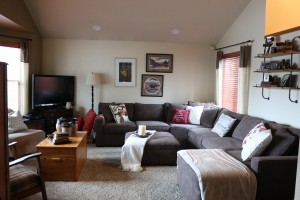 We decided to go with a giant sectional.  This is the Radley sectional from Macy's furniture.  It comes in just about any size and configuration you can think of.  Friends, I'm in love with this.  This room is mainly used for two purposes.  First, we use this room for family get-togethers.  Before we had the giant sectional, several people had to sit on the floor.  Now, I think we could probably put 20 people on this sectional and there are still three more chairs in the room.  The second thing we use this for is as a teenage hangout.  We don't have a bonus room in our house, so the formal living room was to transformed into our bonus room a few years ago.
Here are a few more pictures so you can see the rest of the room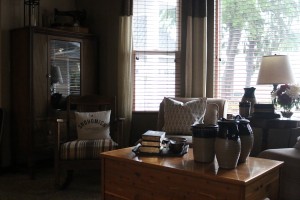 This room is very cold, compared to the rest of the house, so I bought that little space heater that looks like a fireplace.  It's small, but it works to warm this room.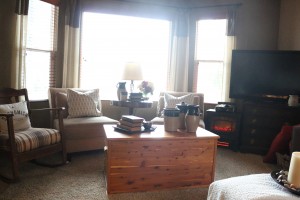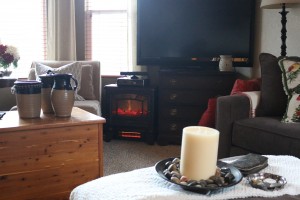 The big wall above the sectional needs something more.  We bought a lamp to put in this corner, but the base didn't fit under the couch.  I'm not sure what we are going to do now.  I may have to find a few more pieces of art to put on the wall.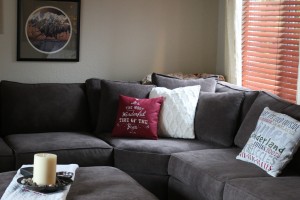 Now, let's talk pillows!  I decided to start out getting some Christmas and Winter pillow covers.  I love Courtney's (Golden Boys and Me blog) pillows and I emailed her to find out where she finds them.  She told me she shops at H & M.  I had no idea they even carried pillows.  Their online selection is amazing and the prices were awesome!  I think the Christmas covers were both $5.99.  I bought a couple to use in Spring that were only $3.99 each.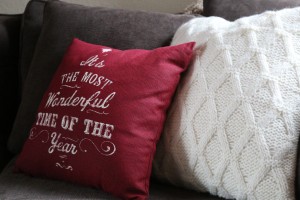 I loved this star pillow.  This may stay around well after Christmas. I've always loved the sweater pillows so I bought three of these covers. I bought my pillow forms from Jo-Ann Fabrics and used my coupon.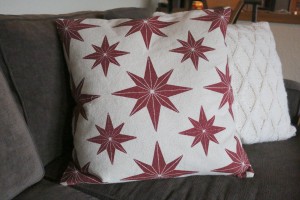 I found this shelf on Wayfair.  I think it's slightly smaller than I want and I think I mounted it a bit too high.  This area is still a work in progress but I knew I needed a place to put cameras, antiques, and pictures.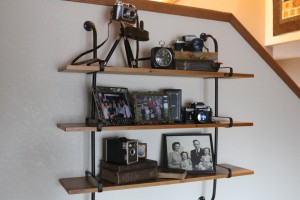 We may find ourselves some barnwood boards and make these shelves a little longer.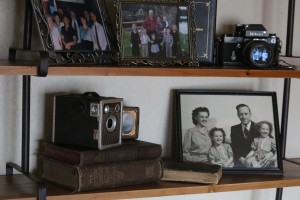 Yay!  If I make the shelves longer, I'll have more room for old cameras.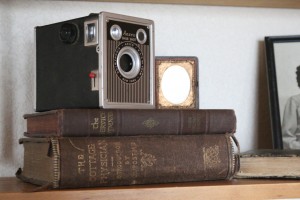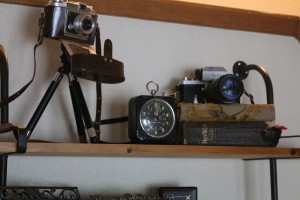 So, that's the story of the BIG change in the living room.  We still have changes to make and work to do, but I'm in LOVE with the giant sectional.  The kids are going to have to fight me for use of this space.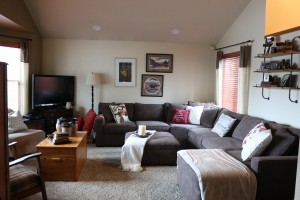 Happy decorating!