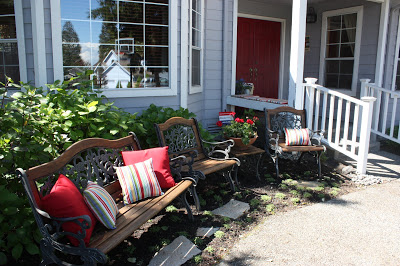 Come On Over!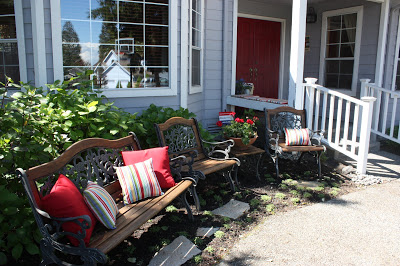 The rain has finally stopped and I can take my camera outside for a few pictures.
Back in March, this is what the sitting area in the front of my house looked like. The benches were in desperate need of a little TLC. They sat uncovered all winter long and they looked pretty shabby. I've always had a vision of stepping stones and some sort of ground cover but I've been putting it off because that money tree just won't start growing.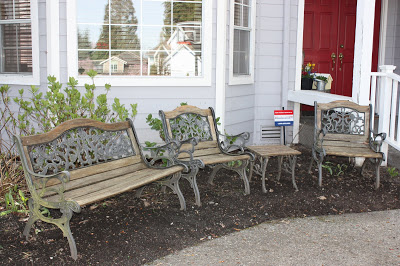 Over the past few weeks, I've been working to improve this area. It's the first thing people see when they come over. There have been a lot of projects leading up to the finished look. First, I sanded, washed, restained, and varathaned the bench, table, and chair.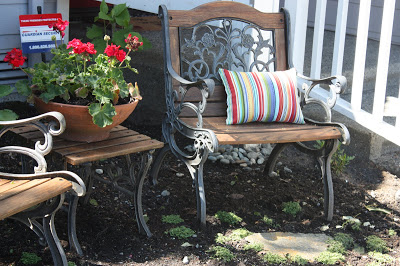 I planted the geraniums a little too early and they didn't like the cold weather we had. I'm hoping they'll perk up when the warm weather decides to show up.
The addition of the outdoor pillows really makes this area come to life.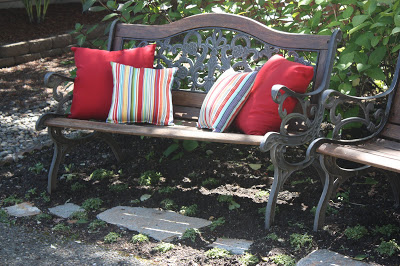 I bought the red pillows at Khol's. The striped "Sunbrella Outdoor" fabric came from Jo-Ann. I fell in love with cheery stripes and bright colors. I used regular poly-fill pillow forms and I've been surprised at how well they have done outside. My sewing projects are much better than the baking projects on my waistline.
I had some left over fabric and decided to make a few cushions for the bench by the front door.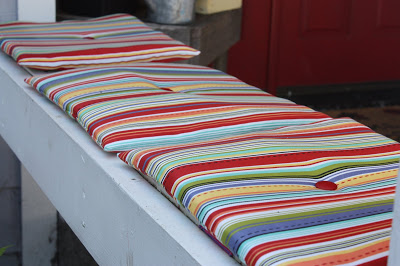 The money tree never did start to grow, but I found stepping stones and ground cover plants for a great deal at Lowe's. I paid $7.00 for all of the plants, which will spread and come back every year. The stones were $6.00 for all of the pieces, since they were small.
I think my sitting area is complete. I like that it looks welcoming and cheerful. We spend a lot of time here because it borders the basketball court/racetrack/chalk drawing area. (The oversized driveway is one of my favorite features of my house.)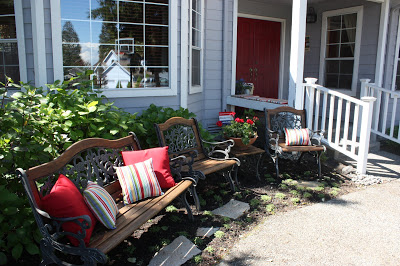 Come on over. I'll meet you out front.
Check out these linky parties.