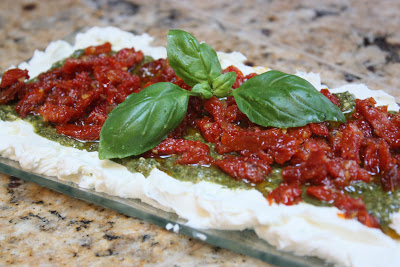 Cream Cheese, Pesto, and Sundried Tomato Spread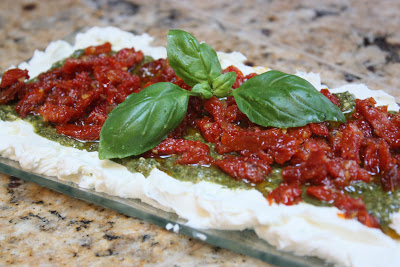 My friend, Diane, had a birthday over the weekend. When I was thinking about what to bring to her party, my mind immediately went to a large meat tray. No, just kidding. Diane's a vegetarian. Really, I was thinking about tomatoes and basil. I know she loves that combination. Here's the spread I came up with, using ingredients I had in my fridge.
2 Blocks of cream cheese, softened
1 clove of garlic, minced
A few fresh basil leaves, finely chopped
Mix together.
Spread the cream cheese mixture on a small platter.
Add a layer of pesto,
then a half cup of chopped sundried tomatoes.
Add a little fresh basil to the top, just to make it pretty.
Serve with crackers, toasted bread rounds, or pita crackers.
If I make this again, I'll rinse the sundried tomatoes. They were a little oily.
Happy cooking and happy birthday, Diane!