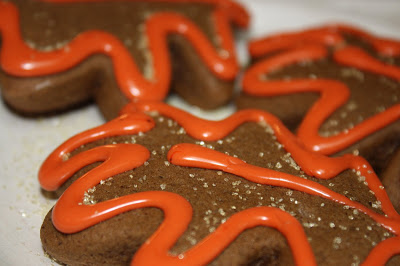 Gingerbread Cookies
The invention of the gingerbread cookie is right up there with the invention chocolate chips, in my book. This is one of those recipes that has been part of the Holidays for as long as I can remember. My mom says the recipe came from a newspaper many, many years ago.
Beat 1 cup of room temperature margarine until light and fluffy.
Add 1 cup of sugar.
Add 1/2 cup molasses and 1 egg.
Mix.
In a separate bowl, sift the following ingredients.
3 3/4 cups flour
1 tsp baking soda
1/2 tsp salt
2 TBSP cocoa powder
1 TBSP cinnamon
2 tsp ground ginger
2 tsp cloves
Gradually add the sifted ingredients.
Chill dough for at least 3 hours.
On a floured surface, roll out dough to 1/4 inch.
Cut with cookie cutters. Here's an important hint: Do not bake gingerbread cookies on a Silpat baking sheet. The Silpat absorbs the the cinnamon, clove, and ginger flavor.
Bake at 350 degrees for 7 minutes. Let cool and frost.
The kids love to frost their own cookies.
Enjoy! Happy baking!