Happy Birthday To Me!
It's really not my birthday, but it was my birthday earlier in the month. Family members kept asking what I wanted for my birthday and I always answered, "Cash or Williams Sonoma gift cards please!" You see, there were a few items I had on my wish list. I knew the items would be outside of everyone's price range, but by adding everything together, I was able to get some GREAT new things for the kitchen.
First up… a real, grown up, chef's knife. I decided to go with a Wusthof knife. I'm not going to lie. Good knifes are not cheap, but it was soooo worth the price!
I also bought another piece of All-Clad to add to my collection.
Best. Pans. Ever.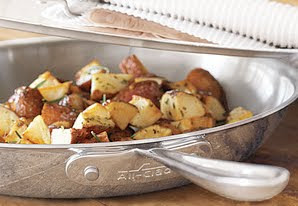 Again, not cheap, but worth it. I will never (I said NEVER) have to buy another pan set again.
I really enjoy cooking, but having the right tools makes food prep even better!
Happy cooking!