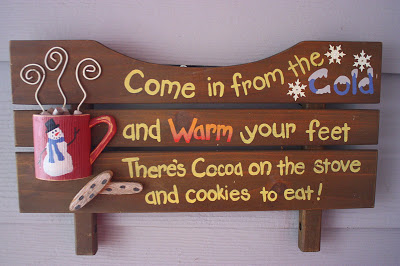 A Peek At My Porch
How do you welcome guests to your house? What greets them before they even come inside? Here are a few things you'll find on my porch.
For those of you who know me well, you know this sign is SO true. My nieces and nephews know there will always be warm cookies and cocoa at Auntie Becca's.
We have two sleds on our porch. The old beaten up sled has seen many hours of sledding down the High Woodlands hill in my old neighborhood. I hate to call it an antique, since I'd like to think that I'm really not that old. We will just call it Well Loved. The newer sled is also mine. When the Well Loved sled had seen better days, my parents bought me a new one. Let me tell you, it's the envy of all the kids now! My kids call it the "old fashioned sled" and it FLIES down the hill unlike these little plastic things they like to call sleds now.
Think about your front door. What does it say about you? What stories can it tell?
Happy decorating!