Valentine Sugar Cookies
We've been snowed in for days and days and days! I was thinking that some of my local friends might be in need of a new recipe to try. I've posted this recipe many times, but I thought it might need to move to the top of the blog for Valentine's Day.  It's my go-to recipe for any holiday or season.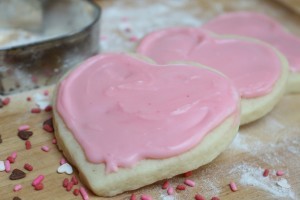 Beat butter, shortening, and sugar in a large mixing bowl. Add eggs, milk, and vanilla. Add dry ingredients and mix. Let dough chill in the fridge for 3 hours. Roll dough on a cutting board, lightly dusted with flour. I like a thick cookie, so I roll my dough slightly thicker than 1/4" thick. Cut in any shape desired. Bake for 7-8 minutes at 375 degrees. Cool and frost. For the frosting, my favorite is a simple powdered sugar and milk frosting. I pour powdered sugar into the bowl and add just a little bit of milk. Keep stirring and slowly add milk until you get to the desired consistency. If you want a thick frosting, add less milk. If you want a glaze, add more milk. I try to use as little food coloring as possible because DYE IS EVIL. A tiny little half-drop of red food coloring will make a nice pink. I also found an all natural food coloring on Amazon, by McCormick. You can also use a little raspberry juice to make a nice pink and then you don't need to use dye at all, which is good because DYE IS EVIL! (Ask me how I feel about food dyes in our foods!) Happy baking and Happy Valentine's Day!