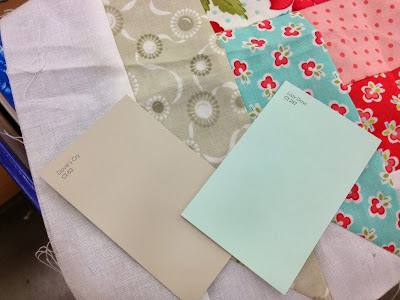 Redecorating
We're in the midst of a little redecorating project at my house.
A few months ago, I let my daughter pick out some fabric for a quilt. She picked a beautiful Moda fabric line. I've always loved the look of aqua and red, but never really had a place for it in my house. I was secretly a little thrilled with this choice of fabrics, although I couldn't let it show. If you have kids, you know that if you like something then your kids will choose something completely opposite. Shhhh. Pretend I don't like this.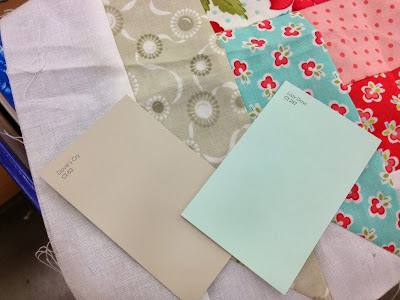 I'm working on the quilt. The blocks are almost done, but life's been a bit busy, so there hasn't been much sewing going on around here in September.
The paint color was a bit of a dilemma. Originally, my daughter said she wanted the grayish/brown color for her walls. I wasn't too keen on this at first. Gray and brown for a little girl's room didn't set well with me. The more I thought about it, the more I liked the idea and thought it could work. The quilt colors would could be used and it would be pretty. Then, at the last minute, she decided she wanted a pale blue/turquoise. I had a hard time wrapping my head around it and I was afraid it would look too minty green. So, I bought the gray/brown. I painted a swatch on the wall and I hated it. When people would ask my daughter what color she was going to paint her room, she said, "Ugly." Something told me she didn't like it too much either. So, we used the ugly paint in the bathroom, where the light makes it look very gray and actually really nice. Then, we painted her room a pretty blue. I say we but in reality, my mom painted 95% of the room and I got home just in time to help with the last few swipes of paint.
I'll post pictures when the quilt is done and the room looks a bit more finished.
Happy painting!