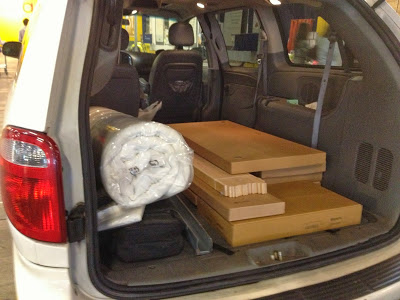 Thank You IKEA
I mentioned earlier this week about our redecorating project. It all started with a conversation my hubby and I had over lunch one Saturday. I told him that I needed help figuring out our daughter's room. Nothing about the room was working. She needs more storage. (Have you seen the show Hoarders?) She really likes to collect things, but doesn't really like to part with them. Ever. We had her bed on risers so we could store dolls and stuffies under her bed, but the risers aren't very stable and the bed keeps tipping. When it tips, it bumps into the heater which freaks me out. Her dresser is quite large and her room is quite small, and her closet is a whole 'nother story. I was a little surprised by his response. He suggested than maybe the 12-year-old-as-tall-as-his-mother may need to have something other than the little-boy-captains bed. He suggested moving the furniture from our son's room to our daughter's and then eventually getting a new dresser and bed for our son. So, I asked both of the kids what they would think and they were thrilled!
Guess how we spent the rest of the afternoon?
You guessed it! I was all about getting that furniture rearranged. It made so much sense and I wanted it done now, now, now! Oh, and I forgot to mention that neither of the kids were home, which makes cleaning out their rooms a heck of a lot easier! (Have you ever seen the way the people on Hoarders cry when they have to part with their treasures?) Yep, it had to be done and it had to be done before they got home!
My daughter's room was the easy part. We took the old furniture downstairs, which will be painted and sold as soon as I get my act together. Then we moved the "new" furniture into her bedroom.
So. Much. Storage.
I love that I don't have to worry about the bed anymore too.
That left a new problem for my son though. He wasn't too thrilled that he had nothing left in his room except a bunch of boxes filled with his clothes. We started looking on the IKEA website because I knew they had prices we could afford. Sunday afternoon we took a LONG drive down to IKEA. (Ok, it's only an hour away, but it feels like forever. It was a nice naptime for me though.) We picked out the pieces we wanted, wrote down the numbers, and went back to pick them up.
Not one single piece was in stock. My son's attitude went from elation to devastation in about 10 seconds flat. The pieces were supposed to be back in stock on the following Thursday, so on Friday I took a trip down again. This time I couldn't nap because I had to drive. Meanwhile, my mom was painting my daughter's room. (Redecorating has been a team effort.)
Now, onto the part where I tell you how much I love IKEA!
I was very grumpy because everything was out of stock the first time. When I walked in, there was a nice man who was just waiting to help me find my pieces. He loaded them right onto the cart for me and I took them straight to the checkout. He even pushed the cart for me! I don't know if I just looked pathetic and helpless or if he just didn't have anything better to do on a Friday morning, but it worked for me! After the nice lady rung me up, she called someone else to help load everything in my car! I never asked for help and she didn't even ask if I wanted help.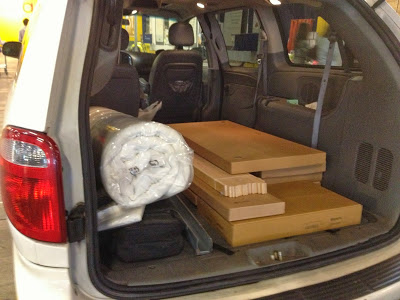 Another nice IKEA man told me to bring my car around and he'd load it all in! It was actually my sister in law's van that I had to borrow twice because I had to drive down there twice. (Remember how I said this was a team effort? Yep. Nice to have family to help.) So, I was home by noon with my son's new bedroom set and I never even had to touch a box. Gotta love IKEA!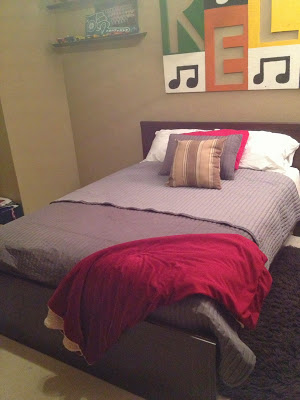 My hubby spent a few hours on Friday night building the bed and a few more hours building the dresser and nightstand on Saturday. I'm pretty sure I had the easiest part of our team effort redecorating weekend. Don't worry, I'll make up for it when I clean out our little hoarder's closet. That's going to be a full time job!
Happy redecorating!