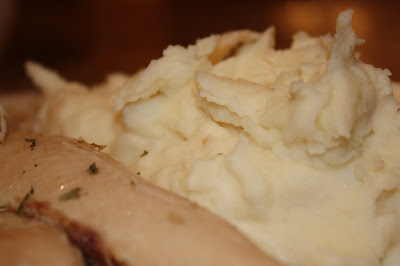 The Yummiest Mashed Potatoes EVER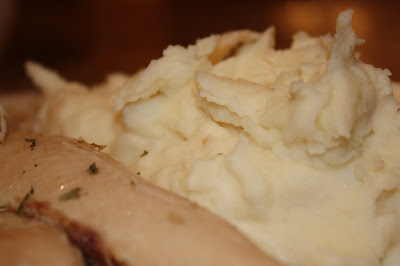 My December Cooking Light magazine arrived in the mail yesterday. One of the articles was about common mistakes when making mashed potatoes. Gluey mashed potatoes are caused by overworked potatoes. The starch cells in boiled potatoes rupture when they are being mashed. The more you mash, the more gluey they become. Mashing potatoes with an electric mixer could cause an Elmer's Glue effect. The article suggested using a food mill or a ricer before mashing. Hmmm. I was up for the challenge.
When I got home, I boiled my potatoes just until soft. The food press made for easy draining. After draining all of the water into the sink, I started pressing the potatoes.
I have to admit, as I was pressing the potatoes in the food mill, I was thinking, "This is so stupid! Who would take the time to do this? It's making a mess all over my counter AND I'll have one more step (washing the food mill) to clean up when I'm done." But, I kept going.
When I was done, the potatoes looked like fine rice in the bowl. I added a stick of margarine, 4 ounces of cream cheese, and about 2 cloves of softened garlic. I also added salt, to taste and then used a spoon to mix it all together. Ok, at that point I was taking back all of my nasty thoughts about how stupid the people at Cooking Light were…. 'cause – YUM. They were the perfect potatoes. I would never have thought to use the food mill. I don't think I would use it for a big family dinner because it would just be too time consuming, but I will definitely try their idea again.
It's something to think about as Thanksgiving is approaching. Happy cooking!