Jam and Cream Cheese Braid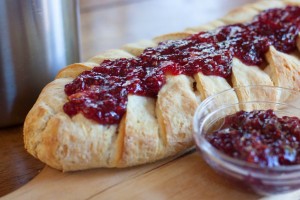 This is one of my all-time favorite recipes to serve for brunch or a Sunday morning breakfast.  The Jam and Cream Cheese Braid is also beautiful for Holidays!  My grandma used to make this on Christmas and it quickly became a family favorite.  I tend to make it quite often because it's SO easy and looks like you spent hours in the kitchen.
The recipe involves yeast, but DON'T be afraid!  I know working with yeast can be intimidating, but all you need to remember is that yeast likes the same temperature that we do.  When you are dissolving it in water, you want to use water that is the temperature of bath water.  If it's too cool the yeast won't activate and rise.  If the water is too hot, it will kill the yeast.  Test your water with your finger.  If you wouldn't set foot in a tub of water that temperature, adjust it until it feels just right.

Dissolve the yeast in warm water. Combine Bisquick, egg, 1 Tbsp sugar, and yeast/water mixture. Turn the dough onto a floured board and knead until it is no longer sticky. Spray a cookie sheet with cooking spray. Roll the dough into a 14"x9" rectangle.
Combine the 8 oz package of cream cheese and 1/2 cup sugar. Spread down the middle third of the dough. Cut lines on each side of the dough at 1 inch intervals. Fold each strip over, alternating sides.
Bake at 350 degrees for 20 minutes. Remove from the oven. Spoon jam down the center and bake for another 5 minutes.